2008 Fed The Artists
In 2008, the spark that was ignited the previous year was kindled into a roaring success, both in terms of feeding the artists AND recruiting our first group of theme camps. Through the generous funding and/or support of an anonymous donor, Root Society, other early-arrival theme camps, over twenty-five FtA volunteers, and our host theme camp, Entheon Village (who also accommodated us with a large kitchen and an ample dining space), we exceeded our goals and successfully achieved the following:
We produced four gourmet, vegetarian dinners (see menus in the archives section) which fed over six hundred artists, crews and other guests. This included over twenty artist groups, including the entire Basura Sagrada Temple crew.
Entheon Village and FtA also catered four "All Artists" breakfasts that may well have fed every artist group on the playa.
We exceeded our goal by recruiting eight additional early-arrival theme camps and coordinating their feeding of an additional one hundred artists.
In total, every artist group that responded to our request for information, over 30 of them, received a dinner, and everyone else was invited to breakfast so that almost every funded artist group on the playa, over 650 people, received at least one meal, and in most cases, several meals!
We created a basic website and produced a comprehensive "Theme Camp Guide" (Please check it out at: www.feedtheartists.net/themecamp.html) which provides theme camps with all the info they need to throw a successful FtA dinner.
As evidenced by the amazing amount of testimonials that we received, we fostered an amazing amount of appreciation, community, collaboration, happiness, and good will that reverberated throughout the entire Burning Man event.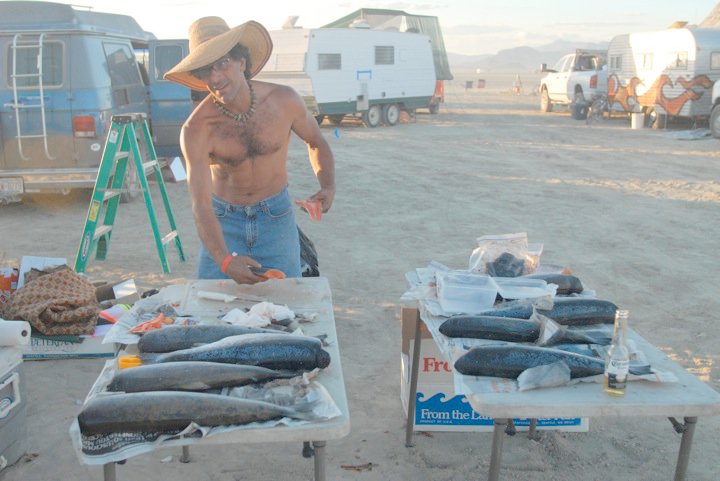 http://picasaweb.google.com/fedtheartists/FeedTheArtists2008?feat=directlink