2007 Fed The Artists
In 2007, the concept was successfully tested to rave reviews from all parties. Through the generosity of the Grand Hotel at Ashram Galactica Camp, and a host of eager volunteers, three "Feed the Artists" dinners were produced on successive nights. The Cone's crew joined us on Thursday night, Ant Mischief's crew joined us on Friday night, and we hosted the A Cavallo crew (and Larry Harvey, Lady Bee & others) at our finale on Saturday night.
The feeling was electric. The positive energy and camaraderie that developed was simply overwhelming and felt by all.
And, anyone, who attended any of the three nights, can attest to the magic that happened at these dinners. The love, gratitude and appreciation that circulated among the crowd was genuine and irrefutable.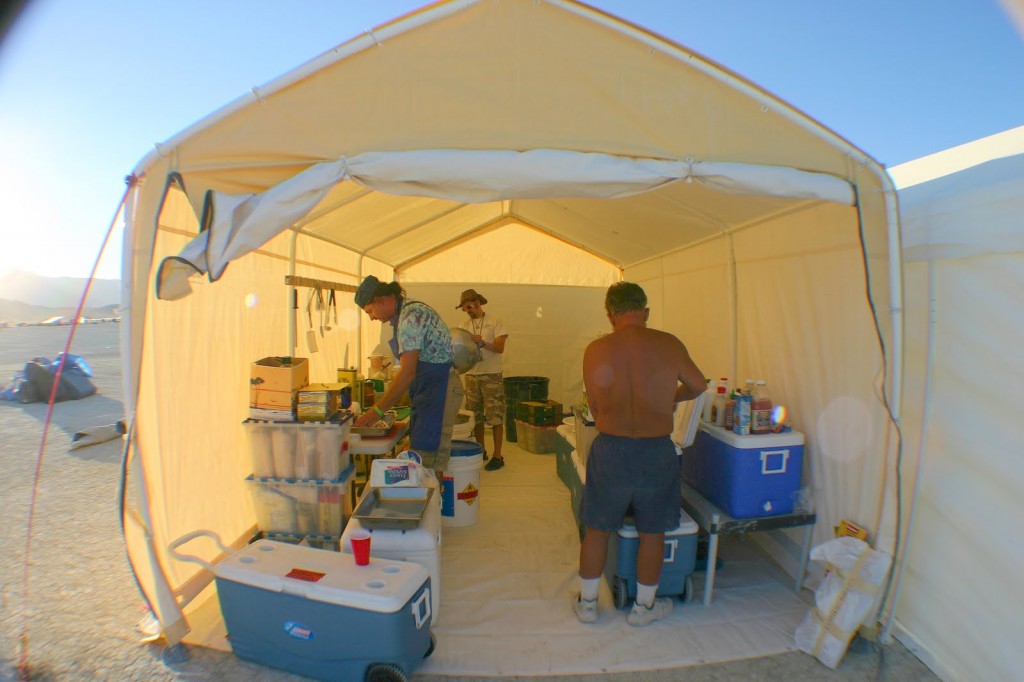 http://picasaweb.google.com/fedtheartists/FeedTheArtists2007?feat=directlink
Some of the artists emailed after the event to say:
"It was great for our team as we ate the best food of all our time at Burning Man…"

"The dinner reflected the spirit of Burning Man in a larger scale…"

"You have no idea what that dinner meant to us. It shaped the entire rest of the event for us as we all tried to do for others as you guys did for us."
Even the volunteers couldn't say enough about the positive impact of the dinners:
"Considering how thankful the artists were, I'd say the dinners impacted them in a wonderful way. For them to leave their work and walk into a beautifully prepared meal was great."

"It added a whole new dimension to my BM experience."

"I think the artists gained tremendous reinforcement for the work and sacrifice they make to create and build the art projects. I think they felt very appreciated and acknowledged."

"I would definitely be willing to work on this project again next year."
Colonel Angus said it well after that year's dinners:
"The dinners created an intimate bond between me and the artists and their projects that I had never previously experienced at Burning Man. I felt connected and deeply vested in the projects' success. I had, by extension, become part of the artists' crew, and I began to see art at Burning Man in a completely different and more meaningful way."